AP Suspension Kits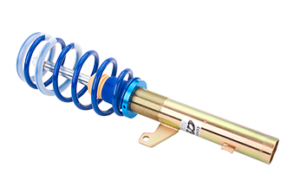 AP suspension kits offer the ability to adjust the desired lowering with pinpoint precision for the driver with sporty feelings. It promises sporty handling and ideal performance in combination with maximum lowering.
Individual lowering according to supplied parts certificate and fit tested
Usually there is thread remaining within the tested setting
Galvanized strut housings that provide long-lasting protection against corrosion
Consistent sportiness and comfort
Proven quality components
Sealing and dust protection package
German development parts
Parts certificate included
High quality at a very attractive price.
2 year manufacturer's warranty
High-quality damper technology
The trapezoidal thread that ensures optimal adjustability of the spring hanger
High-quality coated springs for optimal protection against corrosion and stone chips
AP sport suspension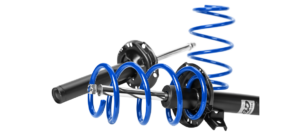 AP Sport suspensions guarantee sporty driving pleasure and safety at an excellent price-performance ratio. A vehicle-specific fixed damper setup is combined with lowering springs and meets the highest demands.
With AP sports suspensions, your vehicle receives a harmonious sporty setup, adapts better on the road and has more control during evasive maneuvers and cornering.
AP sports suspensions are popular due to their sporty and dynamic shock setup, where remaining comfort is also important. AP sport suspensions are developed in Germany and with quality components, just like the ap shock absorbers.
Ideal for lowering up to 60 mm
Unbeatable brand quality at the lowest price.
Direct response and sporty cornering, more driving control and performance
Enough remaining comfort
Sealing and dust protection package
Struts, shock absorber housings and springs made of galvanized steel alloy for long-lasting driving pleasure
Available for many car models (including tuning classics like Golf I etc.)
Certificate
AP springs
AP proposes a high quality option for more driving pleasure at a reasonable price to lower the ride height of your vehicle. Original shocks can be used for a lowering of up to 40mm. For lowering of more than 40mm, we recommend using shortened sport shock absorbers to improve handling characteristics, giving your car a subtle, sporty lowering, more direct handling and even more driving fun.
During strong steering movements that arise from dodging and fast cornering, it provides more control over the car.
40 to 60 mm lowering, wedge shape also possible
More direct handling and more driving pleasure
Sportlich-dezente Optik
Discreet sporty look
High strength chrome silicon steel alloy
Additional powder coating for long life
No products were found matching your selection.